I'm looking forward to moving a little later this year because at that point I plan to actually put together a nursery. I can't say that I have grand plans, but the nursery will undoubtedly have a travel theme.
One item I'd love to purchase to put in there is one of the hand-painted globes from Wild & Free, such as the Adventure Awaits Globe above. I can't wait to begin taking my little one on adventures! (Let's be honest: I already have more than a few planned!)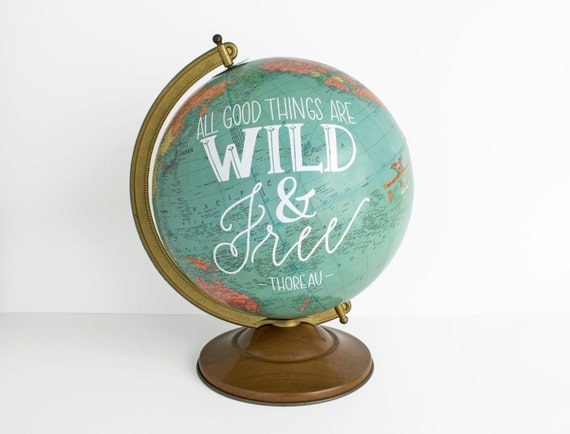 Or perhaps this All Good Things are Wild & Free Globe would be perfect.
All kids are different and I intend to fully embrace my kid's interests and whatnot, although I do hope that our kid inherits mine and my husband's love of travel. I suppose that if this doesn't happen (sigh…) I will be happy to reclaim the globe for myself one day!
Aside from my kid's future nursery, I think these hand-painted globes would make amazing gifts for any travel lover! Or, here's a fun idea – gift one to your favorite soon-to-be college graduate to remind him/her that the world is his/her oyster! (Wild & Free also has a print saying exactly that!)
The hand-painted globes at Wild & Free cost anywhere from $225-$240, or you can request one made specifically for you for $250.