Disclosure: This post may contain affiliate links, which means we may receive a commission if you click a link and purchase something. Please check out our privacy policy for more details.
In college, it doesn't matter if you wear sweatpants and sweatshirts every day, but to make it in the "real world," you have to look more professional. Regardless if you're a fashionista, no one wants to look like they've just rolled out of bed. Similarly, no matter your career, everyone wants to make a good impression and dressing is a very important first step.
Thanks to a tip from reader Jolene, we're implementing a series of columns on how to move from the typical college uniform to dressing for a real work environment. It could also be helpful for someone in the middle of a career change – going from a casual office to a more corporate office.
This first post is going to focus on pants because even though I love 'em, you don't need to wear sweatpants to be comfortable.
These Relaxed Skinny Pants
from the Jessica Simpson Collection ($59) look SO comfy and have pockets! With zippers! Super trendy for someone who works in fashion.
The Signature Stretch Stylist Pant from Express is perfect if your office is more corporate. I personally like the similar "STUDIO STRETCH WIDE LEG STYLIST PANT" in Navy, which reviewers say is super comfortable (like pajamas!) and stylish! Go see all the Express Pants here: Express Women's Dress Pants
Jeans are a staple in everyone's closet, but instead of skin-tight skinny jeans, opt for boyfriend or baggy cut, like these from Gap:

Gap Cropped pleat jeans (faded light wash)
Remember when Jennifer Aniston started wearing cargo pants with tank tops and, like, everyone copied her look? Well, she still wears them and manages to look effortlessly cute and sexy at the same time! Try these Style&co. Pants, Straight Leg Belted Cropped Cuffed Cargo
. These cargo pants at Macy's are on sale for only $29.99! Plus, enjoy an extra 15% off at checkout! Code: WEEKEND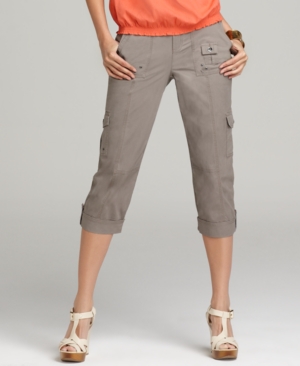 Future posts will focus on dresses, different silhouettes and shapes for body types, shoes and tops. Let me know if you have any ideas or suggestions and thanks again Jolene!