A Celebration of Women: The Ultimate List of Feminist Gift Ideas
Disclosure: This post may contain affiliate links, which means we may receive a commission if you click a link and purchase something. Please check out our privacy policy for more details.
Celebrate girls, women, and equality for all with this selection of more than 65 of the best feminist gift ideas, which are perfect for your woke besties and family members (or those you want to enlighten)!
I make no pretenses about the fact that I am not a perfect parent, but one of the most important things I hope to convey to my son and my daughter is that they are equal to one another and to everyone else. Both of them can do whatever it is they wish to do in this world and I will do whatever is within my power to help them accomplish their goals.
Of course, this is easier said than done.
Chances are, my son will have an easier time achieving his dreams than my daughter, for various reasons. My daughter, like most girls and women, may have to fight harder for the exact same rights and opportunities. Thus, it's my responsibility as a parent to make sure both of my children are feminists. My son will, I hope, recognize his privilege where it exists and strive to empower the women in his life. My daughter will, I hope, recognize that her sex and/or gender shouldn't be seen as a weakness. She, too, will have it easier than many, and I hope she will also fight for those less empowered than her.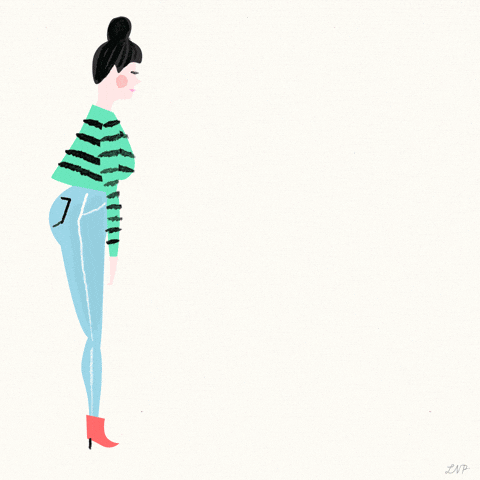 Feminism is often treated like it's a dirty word, but ultimately, I think (hope?) most of us are feminists. All humans, male and female, of all colors, sizes, ethnicities, religions and anything else should be considered and treated as equals. I know that's naive and far from how the world actually works, but all I can really account for is my house and our beliefs. Here, we are feminists and there's no question that women are equal to men in all ways.
You've come to the right place if you're looking for unique feminist gift ideas for the women and men, children, and babies, on your shopping list. Below you'll find more than 65 of my absolute favorite feminist gift ideas, many of which I've purchased for my loved ones this past year!
Fabulous Feminist Gift Ideas
To be honest with you, these blocks are what inspired this list of feminist gift ideas. I saw these blocks and purchased them for my daughter without thinking twice. This awesome set of feminist blocks features 32 women who "made advancement possible for women of the future."
Purchase: Rose & Rex
Want the raddest deck of cards on the block? Check out The Woman Cards, which feature some of the baddest women in history, from Sacajawea to Rosa Parks to Dr. Sally Ride to Beyoncé, who, of course, gets a Queen card. In addition to the cards, you can also order individual prints of any of these feminist icons.
Purchase: The Woman Cards
Heck yeah, this girl is going to move all of the mountains.
Purchase: Hop Clothing Co. (Etsy)
Your favorite feminist will be inspired by 365 remarkable ways women changed the world with this awesome desk calendar.
Purchase: Amazon
Every feminist icon poster available at The Film Artist would make an amazing feminist gift idea. I've considered purchasing an assortment and hanging them on my daughter's wall because in addition to featuring badass women, the posters are unique, beautiful, and, frankly, they're just cool.
I want the entire collection.
Purchase: The Film Artist (Etsy)
Literally the day my daughter was born, I ordered this onesie for her from my hospital bed. I had to have it and it remains one of my favorites.
Purchase: One Strange Bird Design (Etsy)
This tee is perfect for the (quality) men who want to express their support of equality for women.
Purchase: CafePress
That's right. Girls. This poster is so awesome that it even has its own music video that names every woman included in the poster, as well as her accomplishments.
Purchase:
Draw Me a Song
(Etsy)
by Melissa de la Cruz
Synopsis:  Because I Was a Girl is an inspiring collection of true stories by women and girls about the obstacles, challenges, and opportunities they've faced…because of their gender. Edited by #1 New York Times-bestselling author Melissa de la Cruz, the book is the perfect gift for girls of all ages.
The collection includes writings from an impressive array of girls and women who are trailblazers in their fields, including bestselling authors Victoria Aveyard, Libba Bray, and Margaret Stohl; industry pioneers like Dolores Huerta, Trish McEvoy, and Holly Knight; renowned chef Katie Button; aerospace and mechanical engineer Emily Calandrelli; and many more.
Purchase: Amazon
Over the course of writing this post, I learned that one of my favorite quotes, "Well-behaved women seldom make history," was said by neither Eleanor Roosevelt or Marilyn Monroe. Instead, it was first written by Laurel Thatcher Ulrich back in 1976, in an article she wrote about Puritan Funeral Services. (#themoreyouknow)
Purchase: Stitches of Anarchy (Etsy)
How's this bracelet for a reminder that it's OK to misbehave and make history?
Purchase: Amy Waltz (Etsy)
by Laurel Thatcher Ulrich
Synopsis: In 1976, in an obscure scholarly article, Ulrich wrote, "Well behaved women seldom make history."  Today these words appear on t-shirts, mugs, bumper stickers, greeting cards, and all sorts of Web sites and blogs.  Ulrich explains how that happened and what it means by looking back at women of the past who challenged the way history was written.  She ranges from the fifteenth-century writer Christine de Pizan, who wrote The Book of the City of Ladies, to the twentieth century's Virginia Woolf, author of A Room of One's Own.  Ulrich updates their attempts to reimagine female possibilities and looks at the women who didn't try to make history but did.  And she concludes by showing how the 1970s activists who created "second-wave feminism" also created a renaissance in the study of history.
Purchase: Amazon
Who will ever forget these words being spoken?
"Nevertheless, she persisted."
Indeed.
Purchase: Darkoprintshop (Etsy)
If feminism is the idea that all men and all women are created equal, then ALL women must include women of all different ethnicities, religions, and races. I don't know how you can be a feminist and not support the idea that black lives matter just as much as everyone else's.
Purchase: Squirrel vs Coyote (Etsy)
by Catherine Thimmesh
Synopsis:Â In kitchens and living rooms, in garages and labs and basements, even in converted chicken coops, women and girls have invented ingenious innovations that have made our lives simpler and better. Their creations are some of the most enduring (the windshield wiper) and best loved (the chocolate chip cookie). What inspired these women, and just how did they turn their ideas into realities?
Features women inventors Ruth Wakefield, Mary Anderson, Stephanie Kwolek, Bette Nesmith Graham, Patsy O. Sherman, Ann Moore, Grace Murray Hopper, Margaret E. Knight, Jeanne Lee Crews, and Valerie L. Thomas, as well as young inventors ten-year-old Becky Schroeder and eleven-year-old Alexia Abernathy. Illustrated in vibrant collage by Caldecott Honor artist Melissa Sweet.
Purchase: Amazon
There's a subscription box for everything, including feminism! Feminist Box contains an entire feminism activist starter kit, including shirts, a bag, a book, and more.
Purchase: Feminist Apparel
I can't deny loving princess stories, but I always hated when the princess needed the prince to rescue her. This magnet turns that notion upside down, making this an awesome feminist gift idea!
Purchase: Zazzle
Innately powerful, but I would argue that a woman with her smartphone, who can easily record the world around her, is unstoppable.
Purchase: Inspired Cases
Where are all of the girl moms at? This shirt is for you!
Purchase: Kaitlyn G Kreations (Etsy)
If you're looking to make a statement in your home, you can't go wrong with this awesome feminist pillow!
Purchase: Honey Pie Design (Etsy)
by Chelsea Clinton
Synopsis:Â Throughout American history, there have always been women who have spoken out for what's right, even when they have to fight to be heard. In early 2017, Senator Elizabeth Warren's refusal to be silenced in the Senate inspired a spontaneous celebration of women who persevered in the face of adversity. In this book, Chelsea Clinton celebrates thirteen American women who helped shape our country through their tenacity, sometimes through speaking out, sometimes by staying seated, sometimes by captivating an audience. They all certainly persisted.
She Persisted is for everyone who has ever wanted to speak up but has been told to quiet down, for everyone who has ever tried to reach for the stars but was told to sit down, and for everyone who has ever been made to feel unworthy or unimportant or small.
Purchase: Amazon
Sadly, this seems to be one of the most misunderstood aspects of feminism. Feminism = equal rights for men and women. You don't have to be anti-men to be pro-women.
Purchase: MP Clothes for Change (Etsy)
If a feminist Christmas gift is what you need, this little ornament couldn't be more perfect.
Purchase: Rosanna
The perfect companion piece to the feminist Christmas ornament above is this full-size Votes for Women Mug, which celebrates the ratification of the 19th amendment on August 18, 1920.
Purchase: Rosanna
by Chimamanda Ngozi Adichie
Synopsis: The highly acclaimed, provocative New York Times bestseller—a personal, eloquently-argued essay, adapted from the much-admired TEDx talk of the same name—from Chimamanda Ngozi Adichie, award-winning author of Americanah. Here she offers readers a unique definition of feminism for the twenty-first century, one rooted in inclusion and awareness. Drawing extensively on her own experiences and her deep understanding of the often masked realities of sexual politics, here is one remarkable author's exploration of what it means to be a woman now—and an of-the-moment rallying cry for why we should all be feminists.
Purchase: Amazon
There are so many Alex & Ani bracelets that would make for great feminist gift ideas, but this Because I Am a Girl Bracelet stood out because of the obvious message, but also because a percentage of each purchase is donated to Plan International USA's because I am a Girl initiative.
Purchase: Reeds Jewelers
These pencils are fantastic if you're looking for feminist gift ideas, but they're also awesome for fans of the late great Carrie Fisher, as they're all quotes said by her.
Purchase: Feminist Pencils
Life being what it is, I think this is a reminder that we can all use now and again.
Purchase: Sass Mouth Decor (Etsy)
Not only should women stand together but we should also fix one another's crowns. There's more than enough room for all of us to be queens.
Purchase: Elevate and Fly (Etsy)
by Vashti Harrison
Synopsis: Featuring forty trailblazing black women in American history, Little Leaders educates and inspires as it relates true stories of breaking boundaries and achieving beyond expectations. Illuminating text paired with irresistible illustrations bring to life both iconic and lesser-known female figures of Black history such as abolitionist Sojourner Truth, pilot Bessie Coleman, chemist Alice Ball, politician Shirley Chisholm, mathematician Katherine Johnson, poet Maya Angelou, and filmmaker Julie Dash.
Purchase: Amazon
My daughter received this feminist onesie as a gift right after she was born and I had her wearing it nonstop. This has to be one of the best Shakespeare quotes ever, right?
Purchase: Sweetpea & Co. (Etsy)
We all need to stick together.
Get it? Stick…
It's a pin. Nevermind. You get it. 😉
Purchase: Glitter Punk Jewellery (Etsy)
What better way to welcome your new favorite feminist baby to the world than with this cute card, a feminist baby book, and a feminist onesie? There are plenty of baby ideas sprinkled throughout this list of feminist gift ideas!
Purchase: Charming NYC (Etsy)
by Loryn Brantz
Synopsis:Â Meet the irrepressible Feminist Baby in this refreshing, clever board book about a girl who's not afraid to do her own thing, and wants to make as much noise as possible along the way!
Purchase: Amazon
Heck yeah, she is and she will.
Purchase: Zealo Apparel (Etsy)
I saw this poster and wanted to start cheering. We should all be the heroes of our own stories.
Purchase: Paradigm Art
This yard sign puts your values front and center.
Purchase: Amazon
by Ann Shen
Synopsis: Aphra Behn, first female professional writer. Sojourner Truth, activist and abolitionist. Ada Lovelace, first computer programmer. Marie Curie, first woman to win the Nobel Prize. Joan Jett, godmother of punk. The 100 revolutionary women highlighted in this gorgeously illustrated book were bad in the best sense of the word: they challenged the status quo and changed the rules for all who followed. From pirates to artists, warriors, daredevils, scientists, activists, and spies, the accomplishments of these incredible women vary as much as the eras and places in which they effected change. Featuring bold watercolor portraits and illuminating essays by Ann Shen, Bad Girls Throughout History is a distinctive, gift-worthy tribute.
Purchase: Amazon
I've never read Jane Eyre, by Charlotte Brontë, but this lovely pin and quote makes me think I need to get on that ASAP.
Purchase: Literary Emporium (Etsy)
As much as I love pie, I love equal rights and this tee more.
Purchase: Black on Black
May we know them, be them, and raise them!
Purchase: Kee Krafts Boutique (Etsy)
by Joan Holub & Daniel Roode
Synopsis:Â Learn all about influential women who changed history in this engaging and colorful board book perfect for trailblazers-in-training!
Purchase: Amazon
This magnet will allow you to show your support for One's Girl's Count campaign, which aims to provide an education for the 130,000,000 girls in the world who currently have no access to school.
While you're at it, you can lend your voice to Girl's Count. They're trying to make the world's longest video to try to urge world leaders to help girls get an education. Here's my submission.
Purchase: One
Women, of all colors and backgrounds, must stand together and respect one another.
Purchase: Feminist Apparel
Women are the face of the resistance, which makes this one of the best feminist gift ideas.
Purchase: Burnt Threadz (Etsy)
by Grace Bonney
Synopsis: Over 100 exceptional and influential women describe how they embraced their creative spirit, overcame adversity, and sparked a global movement of entrepreneurship. Media titans and ceramicists, hoteliers and tattoo artists, comedians and architects—taken together, these profiles paint a beautiful picture of what happens when we pursue our passions and dreams.
Purchase: Amazon
Cyndi Lauper has described her hit song, Girls Just Wanna Have Fun, as "very blatantly feminist," so I have to believe that she loves this new take on her words.
Purchase: The Brunch Club Shop (Etsy)
This excerpt from the beautiful Maya Angelou poem, Phenomenal Woman, makes for a lovely keychain gift that any feminist will love.
Purchase: Pretty Bookish (Etsy)
by Julie Scelfo
Synopsis:Â Read any history of New York City and you will read about men. You will read about men who were political leaders and men who were activists and cultural tastemakers. These men have been lauded for generations for creating the most exciting and influential city in the world.
But that's not the whole story.
The Women Who Made New York reveals the untold stories of the phenomenal women who made New York City the cultural epicenter of the world. Many were revolutionaries and activists, like Zora Neale Hurston and Audre Lorde. Others were icons and iconoclasts, like Fran Lebowitz and Grace Jones. There were also women who led quieter private lives but were just as influential, such as Emily Warren Roebling, who completed the construction of the Brooklyn Bridge when her engineer husband became too ill to work.
Purchase: Amazon
This speech given by Hillary Rodham Clinton was so moving to me that this print became the first piece of art I hung on my daughter's bedroom wall. I never want her to forget that she's valuable, powerful, and deserving of every chance… as are all women (and men).
Purchase: Amelia Street Studio (Etsy)
by Julie Merberg
Synopsis:Â Exploring attributes from physical strength to intuition, this introduction to DC's super heroines is also a catalog of role models for little girls. From Wonder Woman's ability to find the truth to Black Canary's powerful voice to Batgirl's keen mind, readers will find much to admire. Cool, classic art makes for a fun, colorful package.
Purchase: Amazon
This is what a feminist looks like and these are the socks she wears.
Purchase: Sock Wizard
by Gemma Correll
Synopsis:Â Looking to smash the patriarchy and get your arts and crafts on?
Want to have a laugh while taking down sexist stereotypes?
Look no further than Gemma Correll's Feminist Activity Book, where your dress up doll can wear whatever she wants and the only thing limiting your sexuality is the size of your colored pencil collection. Welcome to the games, coloring projects, and crafts of your egalitarian dreams!
Purchase: Amazon
This. This right here. If my daughter wants to be a princess, she can be a princess. (And, hey, it worked for Kate Middleton and Meghan Markle!) But I'd be lying if I didn't say I hope she one day dreams of becoming the leader of the free world.
Purchase: A White Dahlia (Etsy)
by Margaret Atwood
Synopsis:Â Offred is a Handmaid in the Republic of Gilead. She may leave the home of the Commander and his wife once a day to walk to food markets whose signs are now pictures instead of words because women are no longer allowed to read. She must lie on her back once a month and pray that the Commander makes her pregnant, because in an age of declining births, Offred and the other Handmaids are valued only if their ovaries are viable.
Offred can remember the days before, when she lived and made love with her husband Luke; when she played with and protected her daughter; when she had a job, money of her own, and access to knowledge. But all of that is gone now….
Funny, unexpected, horrifying, and altogether convincing, The Handmaid's Tale is at once scathing satire, dire warning, and literary tour de force.
Purchase: Amazon
So, uh, best tote ever or best tote ever?!
Purchase: PBFH Punk (Etsy)
These sticky notes will remind you to fight the good fight day after day.
Purchase: Amazon
Feminism is the belief that ALL women are equal to men, so this update to the iconic Rosie the Riveter image is all kinds of amazing.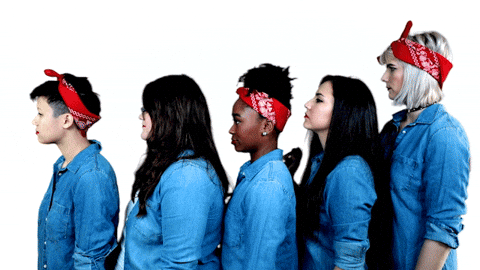 Purchase: Feminist Apparel
Synopsis:Â "Good Night Stories for Rebel Girls" is a children's book packed with 100 bedtime stories about the life of 100 extraordinary women. It features illustrations from 60 female artists from all over the world. Each woman's story is written in the style of a fairy tale. Each story has a full-page, full-color portrait that captures the spirit of the portrayed hero.
Purchase: Amazon
Here's a fun feminist gift idea: Wrap this pin with the Wonder Woman movie and call your gift a win!
Purchase: I'm Bookish and Bake Well (Etsy)
by Rachel Ignotofsky
Synopsis: A charmingly illustrated and educational book, New York Times bestseller Women in Science highlights the contributions of fifty notable women to the fields of science, technology, engineering, and mathematics (STEM) from the ancient to the modern world. Full of striking, singular art, this fascinating collection also contains infographics about relevant topics such as lab equipment, rates of women currently working in STEM fields, and an illustrated scientific glossary. The trailblazing women profiled include well-known figures like primatologist Jane Goodall, as well as lesser-known pioneers such as Katherine Johnson, the African-American physicist and mathematician who calculated the trajectory of the 1969 Apollo 11 mission to the moon.
Women in Science celebrates the achievements of the intrepid women who have paved the way for the next generation!
Purchase: Amazon
by Rachel Ignotofsky
Synopsis: A richly illustrated and inspiring book, Women in Sports highlights the achievements and stories of fifty notable women athletes. The athletes featured include well-known figures like tennis player Billie Jean King and gymnast Simone Biles, as well as lesser-known champions like Toni Stone, the first woman to play baseball in a professional men's league, and skateboarding pioneer Patti McGee. The book also contains infographics on topics that sporty women want to know about such as muscle anatomy, a timeline of women's participation in sports, pay and media statistics for female athletes, and influential women's teams. Women in Sports celebrates the success of the tough, bold, and fearless women who paved the way for today's athletes.
Purchase: Amazon
With a $25 donation, you will receive 18×24″ posters of each piece of art by Brooke Fischer, Ann Lewis and Jessica Sabogal.
Purchase: Amplifier.org
I've never liked the phrase, "boys will be boys." I also don't like the signs that are made for boys' bedroom walls that read, "No girls allowed." Not in my house. Here, boys are respectful, kind, and responsible… as are the girls. 😉
Purchase: Turner and Pooch Co. (Etsy)
How's this puzzle for a family fun night? Put it together while chatting about these amazing women's contributions to society!
Purchase: Amazon
The bluntness of this message is pretty spectacular.
Purchase: Look HUMAN
Cheers to all of my fellow nasty women!
Purchase: Lilacs and Lupines (Etsy)
Do Tell: What else would you add to our list of feminist gift ideas? Share 'em below – I'm always on the lookout for more unique items!
Check out these other gift guides: