Lisa's Favorite Things: Nutribullet Review
Disclosure: This post may contain affiliate links, which means we may receive a commission if you click a link and purchase something. Please check out our privacy policy for more details.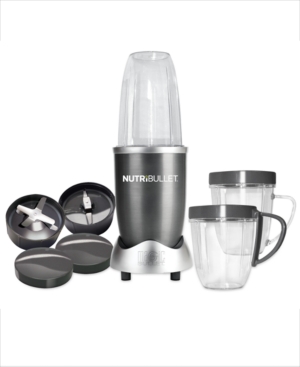 As we start heading toward the holidays I thought I'd share a few of my very favorite things with you. These won't be things I have been asked to review, instead, they will be what I consider to be the absolute best of the best. (The name of this series may have been influenced by watching The Sound of Music for the millionth time this weekend.)Â 
Recently, over on Fantabulously Coveted, I shared how I watched an infomercial and walked away NEEDING a NutriBullet. I love making smoothies, but my blender is at least 10 years old and doesn't finely blend anything. I've heard rave reviews about the Vitamix, but paying at least $500 for a blender is out of the question.
What drew me to the NutriBullet, other than the mesmerizing infomercial, is how powerful the blade is. You can put nuts and seeds into the NutriBullet and they will get broken down. For instance, some drink recipes call for you to add cashews. A few years ago my husband and I watched an infomercial (are you sensing a theme here?!) and we ended up purchasing a juicer. In the six years we have owned that juicer I can only recall using it about 5 times. There are just so many different parts to put together, and then each part had to be washed, that it was too big of a pain.
Using the NutriBullet couldn't be easier. In fact, to make a drink with the NutriBullet you only need three parts:
The NutriBullet base, one of the special NutriBullet cups (your set will come with 3 cups – 2 small and 1 large), and the blade, which screws onto the top of the cup.
When you're ready to make a smoothie, or a "NutriBlast" if you're into NutriBullet lingo, all you do is fill one of the special cups with the items you want. (If you're not sure, you'll also get a huge recipe book with the purchase of a NutriBullet. Also look to the bottom of this post for my favorite recipe.)
Then, just screw the blade onto the top of your cup and insert it upside down into the NutriBullet base.
When you lock the cup and blade into the base it will start blending. You don't need to keep it on there very long – I would say I generally only "blend" my drinks for about 20 seconds.
Once your drink is blended you can pull the cup out of the base and remove the blade. I wash the blade immediately because it only adds about 10 seconds to the process and then I always know it is ready for the next drink. Then, sit back and enjoy a delicious homemade smoothie! Once you're done, the cup itself can go right in the dishwasher!
Since we bought the NutriBullet about 3 weeks ago, I have made a smoothie for breakfast every single day (and sometimes I've doubled up and had another for lunch). I absolutely positively LOVE my NutriBullet. It couldn't be easier to use (or clean up), and the drinks are nutritious and delicious. My husband was a little skeptical at first (he's still a little grumpy about the juicer fiasco), but even he loves the NutriBullet and enjoys having a smoothie every day before he heads to work. He recently commented that he's surprised at how full he feels after enjoying such a small shake.
The NutriBullet costs anywhere from $99.99 – $150, so it's still a bit of an investment. Honestly, I probably wouldn't have purchased mine except that I received a little bit of birthday money. You can find the NutriBullet for $115.99 at Amazon, and it ships for free. It's currently on sale for $99.99 at Macy's. I've seen the price as low as $99.99 at Kohl's as well, which you can usually combine with a coupon to bring the price down even further. I picked mine up at Bed Bath & Beyond because they always sell it for $99.99. I couldn't find one of their big blue 20% off coupons lying around my house so I signed up for their email list and had one emailed to me. I ended up paying $79.99, and so far it has proven to be a very worthy investment!
Besides its ease of use, the NutriBullet has proven to be an easy way to include more fruits and vegetables in my diet. The base of each drink is a leafy vegetable ( we use spinach or kale), and then we fill the rest of the cup up with fruit. There is no doubt that I am now eating more fruits and vegetables than I ever have in my life, and I feel great! I wouldn't say the NutriBullet has changed my life, but it has certainly changed my eating habits (and I've even lost a few pounds since I started using it). This is one of those products that I can talk about ad nauseam. I really enjoy my NutriBullet that much and plan on purchasing a few as gifts over the coming months.
I've made a few different variations of drinks in the NutriBullet, and thought I'd share my favorite with you. All amounts are approximations – play around with it until the flavor tastes perfect to you!
Lisa's Favorite Tropical NutriBlast
1 cup fresh spinach, kale or other leafy green
1/2 small orange (remove the peel)
1/2 small banana (I freeze mine)
1/8 cup frozen pineapple
1/8 cup frozen mango
1 teaspoon Goji Berries
1/2 teaspoon Flax Seeds
1/2 teaspoon Chia Seeds
Coconut water
Combine all of the ingredients above in the NutriBlast, blend, and enjoy a super tasty and healthy start to your morning!
Do any of you have a NutriBullet? Do you love it as much as I love mine? Do you have any smoothie recommendations?
Disclosure: This post contains affiliate links, which means we may receive a (very) small commission if you click a link and purchase something.